Axis Bank
Axis Bank Limited , formerly known as UTI Bank , is a Mumbai -based Indian banking and financial services corporation . It provides financial services to large and mid- sized organizations , as well as SMEs and retail firms . The promoters and the promoter group owned 30.81 percent of the shares as of June 30 , 2016 .It is the third largest private sector bank in India .
Axis Bank Net Banking Login
Axis bank provides a large spectrum of banking services for both private as well as corporate sector . It does not issue requests for Internet Banking Login IDs , Passwords , Credit / Debit Card Numbers , Bank Account Numbers , or any other information .Axis bank provides easy to use services to start banking online . Customer care services for user's assistance are available 24*7 . It allows you to do multiple things from the comfort of your home any time .
Axis Bank Net Banking
This sign up is mandatory to enjoy the net banking facilities . Axis Mobile is a safe , secure , and user -friendly mobile banking app with over 250 cutting- edge features and services that meet more than just your basic needs .You get many simple facilities by using Axis Bank's net banking facilities .
How to Register for Net Banking in Axis Bank
You must complete a few simple actions in order to register for theNet Banking function . To register for an internet banking service , complete the steps outlined below :
Log in to Axis Bank's net banking website .Access the tab that asks you to make a registration for online banking . The website will request you to feed your Account Number , Customer ID and registered mobile number .
Now , the customer has to validate his or her debit or credit card information . This will be followed by an OTP being sent on the customer's registered phone number or email ID .
Now the customer will be asked to generate a password for Login purposes . Create a strong password after reading the password creation recommendations .
Axis Net Banking Login Steps
Visit Axis Bank's official website and click on internet banking option available on the right hand side of the page .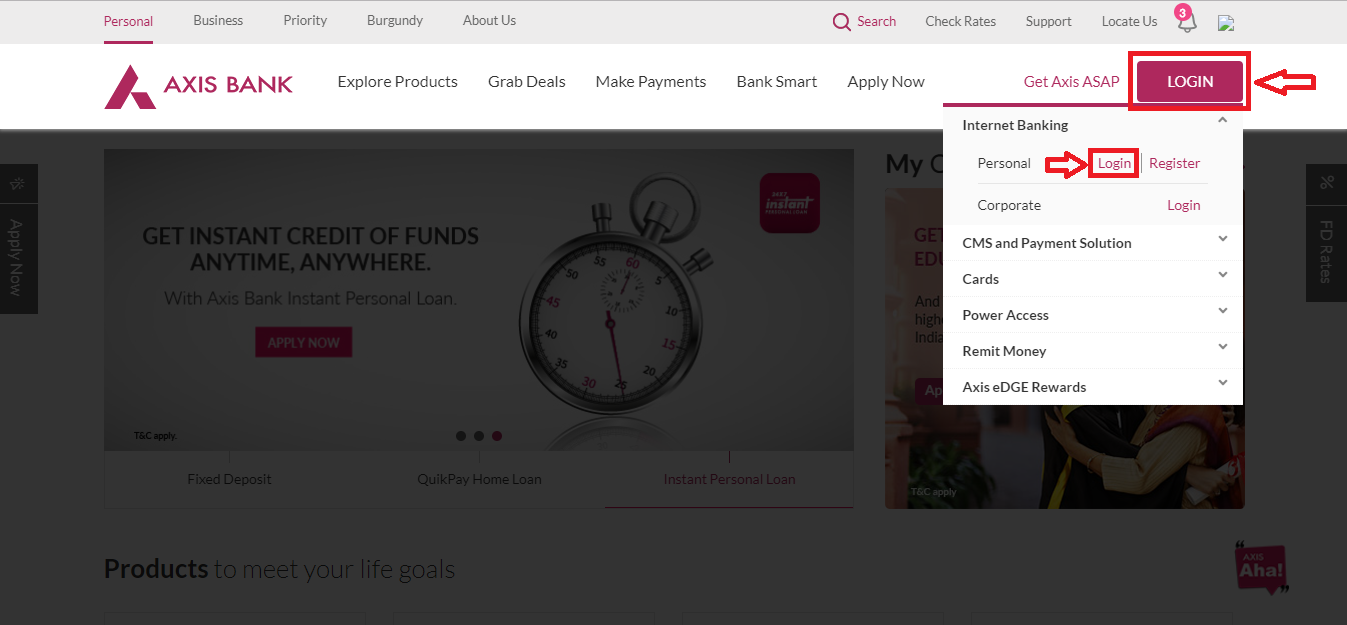 Click on the 'Login' button on the 'Personal' tab .Two options will be available -Axis Bank Personal Login , Axis Bank Corporate Login . User can choose any one based on the type of account he/she has .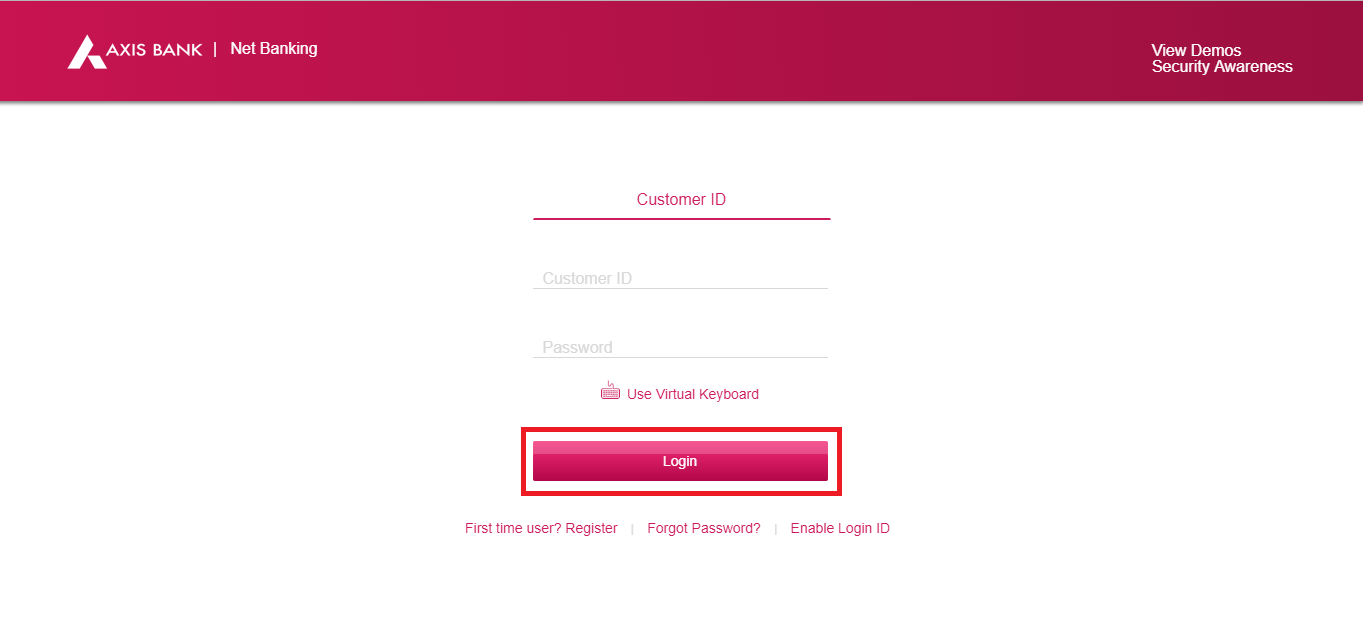 On the next page , enter Customer ID Axis Bank and password .
Click on 'Login' button to access Axis Bank's net banking services and requests .
Axis Bank Net Banking Registration
· For Retail / Agri – Rural Customers
Go to the Axis Bank official website and select the "Login" option on the right side of the page .
Under the "Personal" page , click the "Register" button .
On the next page, enter the Axis Bank customer ID in the "Login ID" section. (The customer ID is converted into the login ID for Axis Bank net banking) .
Select 'Proceed' to enter user information , details , and a new password for Axis Bank internet banking login .
To utilize the Axis Bank internet banking service , log in with your customer ID and password .
· Axis Bank Internet Banking Sign Up (If account holder does not have customer ID and password)
Download the Axis Bank Internet Banking application form . (It is also available at your local branch.)
Fill up the account information and read the instructions before signing .
Have all account holders sign the form (in case of joint account) .
Submit the form to any Axis Bank office and , if not already registered , register the mobile number for Internet Banking (Net secure) .
· By visiting the nearest Bank ATM , you can register your cellphone number for Axis Bank Internet Banking .
Go to an Axis Bank ATM near you .
On the ATM machine, go to the "Registrations" tab and then to "Netsecure ."
Enter and submit the mobile number . (Please provide the same mobile number that you used to enroll for Axis Bank Net Banking. )
The registration procedure has been completed (Account holder will get an SMS confirming the registration) .